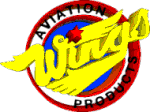 Order Form Help
When you display the Order Form, you may print it exactly as it appears on the screen by clicking the "Print" button on your browser Toolbar. If your Toolbar isn't displayed, click on the "File" menu, then click "Print". After printing the form, you can return by clicking the "Back" button on the Toolbar.
After filling in your ordering information, you may:
1) Fax the completed form to us at 1-850-455-1395 (24 Hours).
2) If paying by check, mail the form with enclosed check to:
Wings-Pensacola, Inc.
3470 Barrancas Ave.
Pensacola, FL 32507
(Checks must be drawn on U.S. banks. When paying by check, please allow sufficient time for check to clear).
Thank you for visiting the Wings online catalog. Don't forget, you can reach us by calling 1-800-642-9464 during business hours. If you're ready to print the Order Form now, click here.