Kneeboards & Leg Straps
---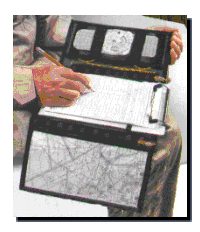 Wings Tri-Fold Kneeboard
This is the original. (It's been copied by Jeppesen, by Sporty's, by ASA, and others...) But we've made it even better by adding checklist ring holders in each spine. Features sturdy clipboard, 2 pencil holders, clear pocket for viewing charts, 2 nylon pockets for computer or other flight essentials, adjustable elastic leg strap with nylon buckle, two straps to firmly hold computer in view. Measures 20" x 10" open, 7" x 10" closed. We make all Wings kneeboards in the U.S.A. (The other guys don't.)
All kneeboards will hold a 5" x 8" pad of paper in clipboard.
Instructor Pilot TIP: Put the bottom edge of the pad into the clip so the spine is closest to you.
That way the loose page ends are held under the clip and used pages can be folded underneath the pad's cardboard back, instead of being loose at the top of the kneeboard..
Wings Mini Tri-Fold Kneeboard
Compact version of full size tri-fold, but without nylon pockets or computer straps. Measures 8" x 15" open, 8" x 5" closed.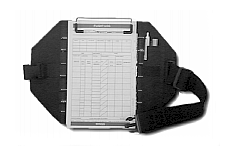 9-G Kneeboard by Wings
Developed in Pensacola, home of Naval Aviation, this low profile board has been tested to 9.5 G's and stayed in place. Sturdy clipboard holds pubs. Pocket for flashlight and sewn loops on both sides of clipboard hold rings for checklist pages. Hefty nylon backpack clip secures adjustable elastic leg strap. Clipboard holds a 5" x 8" pad of paper.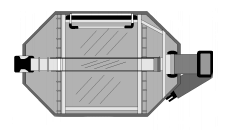 Wings 9-G Plus Kneeboard
Like above but adds clear, negative-G strap to hold pubs, Can hold checklist rings on both left and right sides.
Wings SOFT-G Kneeboard (Reversible)
Our most versatile kneeboard, developed by a former Thunderbird Pilot, has an ABS plastic clipboard which inserts in top or bottom so whole board can be reversed. Includes clear, negative-G strap to hold pubs; includes removable checklist holder. Small, flapped pocket can hold timer. Wide elastic loops for pencils. Extra Velcro underneath holds board securely.
| | |
| --- | --- |
| 368018 (one checklist holder included) | $ 45.95 |
| 368158 extra checklist holder | $11.95 |
---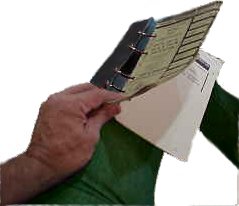 Wings Checklist "T-Strap"
Black leather spine with four grommets to hold crew checklist book or pocket checklist is sewn to 2" elastic leg strap with Velcro closure.

Wings IFR/VFR Leg Strap
Elastic strap fits snugly around leg with adjustable Velcro. Clear plastic band stretches over approach plate or chart to hold securely. Unique Wings design.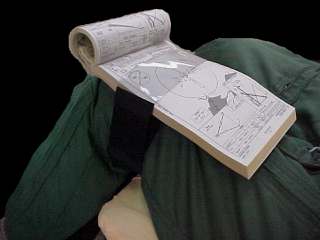 | | |
| --- | --- |
| 368155 1" wide strap | $ 10.95 Temporarily out of stock |
| 368156 2" wide strap | $ 14.95 |
---